Site
Bring you TVB news, articles, and just anything on my mind. Yes it is my blog, now deal =)

Note: Best Viewed in Firefox

This site is not affiliated or endorsed by TVB All rights reserved to TVB Ltd Images and news sources are the copyright of the appropriate owners non profit blog made entirely for entertainment purposes

Random Quote
Chatbox
Archives
Friday, July 27, 2007
Stepping in and out of the TVB fandom
I mean no negativity when writing this post

Really its been almost a year since I actively participated in the TVB fandom. I haven't posted much since. I got caught up in other fandoms, life got really busy... and I just didn't feel like it. Strange.

So I come back, now. And much has changed. You have new forums popping up, older ones dying, renewal of dying ones. Its like a new atmosphere. (Also I wasn't aware that a new policy was implemented at AF, hence demoted to newbie :P) Anyways, I find myself a little lost in this world. The main blogs are up, some died off... similar to mine. But it seems like a hundred popped up in it's place. All trying to promote themselves though the network of blogs. Affiliate yourself with established sites to launch you blog. Hey I did it and prob the only thing that had gotten this site a steady flow of hits while it was wasting away.

I'm glad that Asia, Sid, Metal, Sehseh's sites are still alive and kicking. Em and her return to translating, along with Jayne (even though she had a setback, best of wishes to her) have kept me somewhat up to date on pressing TVB news during my hiatus.

*huggles*

posted by toomanysidesofme @ 9:58 PM

Wednesday, July 25, 2007
TVB the unorginal- DOL subtheme
We all know TVB "borrows" many of their ideas from others. While no idea is ever completely original in the entertainment world, TVB is pretty blatant in "borrowing".

Anyways recently I came across Raymond's Drive of Life subtheme MV. Bernice Liu also stars in the video.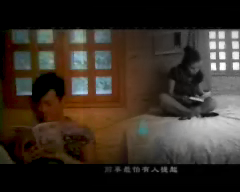 Title: 愛在記憶中找你 /Love searching for you in memory
Singer: Raymond Lam


Download-

[

Mediafire]


Pretty much as soon as I watched it I recognized the basic plot of it. MV is pretty much a condensed version of Korean
film Il Mare/America remake

The Lake House

. While I did not see Il Mare, I do know there is a

*spoiler warning

*

highlight to read [

"accident", where one of them is hit by a bus ].

This is where I was absolutely convinced it was a rip off. Because the whole corresponding though magical diary? Not so new, therefore forgivable, but the fact [

one of them died

] the same exact way? Eh... that's pushing it.


posted by toomanysidesofme @ 11:36 AM