Site
Bring you TVB news, articles, and just anything on my mind. Yes it is my blog, now deal =)

Note: Best Viewed in Firefox

This site is not affiliated or endorsed by TVB All rights reserved to TVB Ltd Images and news sources are the copyright of the appropriate owners non profit blog made entirely for entertainment purposes

Random Quote
Chatbox
Archives
Tuesday, January 31, 2006
TVB Programme Highlights 2006 -Issue 1
TVB Programme Highlights 2006 - Issue 1
Credit: bill617
http://tvbchinesenews.blogspot.com/




Lethal Weapons Of Love And Passion ( 40 EPS )
Cast: Raymond Lam, Charmaine Sheh, Sonija Kwok, Bosco Wong, Sharon Chan, John Chiang

Trimming Success ( 20 EPS )
Cast: Kevin Cheng, Nnadia Chan, Sharon Chan, Wayne Lai, Lau Dan



A Pillow Case Of Mystery ( 20 EPS )
Cast: Bobby Au Yeung, Kenix Kwok, Benny Chan, Tavia Yeung, Annie Man, Gordan Liu

The Bitter Bitten ( 20 EPS )
Cast: Benny Chan, Michael Tong, Shirley Yeung, Linda Chung, Stephen Au



Face To Fate ( 20 EPS )
Cast: Frankie Lam, Raymond Lam, Tavia Yeung, Selena Li, John Chiang

The Bronze Teeth III ( 40 EPS )
Cast: Cheung Kwok Lap, Wong Kong, Cheung Tit Lam, Cheung Ting



Vagabond Vigilante ( 40 EPS )
Cast: Sonija Kwok, Sunny Chan, Kenny Ho, Tammy Chen, Chen Long

Under The Canopy Of Love ( 20 EPS )
Cast: Kevin Cheng, Niki Chow, Bosco Wong, Natalie Tong, Charles Szeto
posted by toomanysidesofme @ 7:55 PM

Special Shows: Reality TV? and other types of shows.
TVB is full of Dramas... some of them are considered Comedy, but all have elements of dramas... but where are the reality shows? Where are the different types of shows?

I admit I'm a huge fan of drama series, but not so much comedy. I remember years ago, primetime shows were filled with Reality TV! You got Survivor, American Idol, Fear Factor, Amazing Race...etc and even today with less hype then before Reality TV dominates ratings (mostly American Idol). But TVB never jumped into the bandwagon, except for Minutes to Fame.

With the fall of Super Trio, TVB seems on some rampage... series after series; it feels like too much to handle these days. Maybe add some other game show, with TVB stars! I would like to see another Game show arises from the ashes of Super Trio (I loved watching the stars just have fun)

And Sitcoms? With the end of Virtues of Harmony, Women on the run tried to take its place... and badly failed. I rented VOH as a break from those Dramas... I laughed and had fun.

Now it seems that there isn't much to TVB anymore, so much less variety in their shows… I hope that TVB will change that…to the Special Shows!
posted by toomanysidesofme @ 5:18 PM

Monday, January 30, 2006
01-30-06 Quote of the Day
Even though, she is not my by side. In my heart, she will always be my Lo Por Jai! (Roger Kwowk- Life Made Simple)
posted by toomanysidesofme @ 9:55 PM

Sunday, January 29, 2006
Bernice new MV! "Truth" [Into Thin Air Themesong]


TVB has released a MV of Bernice's hit song "Truth" (Into thin air themesong) actually a Bernice MV!

Screencaps:


posted by toomanysidesofme @ 9:29 PM

01-29-06 Quote of the Day

Vanity is a type of force, the more people pursues, the better. (Waynei Lai - Trimming Success)


TVBsquare =)
posted by toomanysidesofme @ 9:28 PM

Lunar New Year!
Happy Lunar New Year to everyone!


Few Canto Sayings: (Mando)
"Gong Hei Fat Choy" 恭喜發財 (Gong Xi Fa Cai), "Sun Taai Gin Hong", "Maan something...I forgot =\", "Suum seung si sing","Hok Yap Jun Boh"
there is more but I forgot them... me bad.

San Nin Faai Lok 新年快樂(Xin Nian Kuai Le)

Nin Nin Yau Yue 年年有余(Nian Nian You Yu)

Sui Sui Ping On 歲歲平安 (Sui Sui Ping An)
posted by toomanysidesofme @ 8:29 AM

Saturday, January 28, 2006
01-28-06 Quote of the Day
Its impossible for us to be together, just like its impossible to see stars in the day, or the sun rising from the west (Kenix Kwok- Love Bond)

Submitted by Ying Ying!

posted by toomanysidesofme @ 9:07 PM

Ron's Mini Concert Review

I got my hands on Ron's concert =) [ok TVBsquare, I just couldn't wait till you uploaded it]

The concert was a mini one, its pretty short. Ron invited many of his entertainment friends. And he even brought his dog!




Ron



Singing: I really don't get it, alot of people say his singing is terrible. But it really isn't that bad... actually I think he did fairly well.

Grade: B

Dancing: Its rather simple for someone who was a dancer at first... nothing special, but at least he can dance, and with passion too. I like that.

The Look: umm I hated that pair of glasses he wore in the beginning. and wasn't too into that shirt.... haha its prob for those obessed fans haha..

Other comments: I found it hilarious when he called up that one fan 0801 , and told her to get the glass case in the back as a gift... something like that, his face was like... haha. I laughed.





Ron's Dog - Ah Mo


hehe the special guest! aww its cute!





Niki Chow


Singing: She can sing, but its nothing special. The voice seems very plain I guess no variation. I found it ok.

Dancing: ummm no... I rather her just stand there and walk around. There is no passion in her dancing... she looked as she was too focused on dancing.

The Look: The hair was bad.. and I didn't like her outfit either...

Other comments: none, actually I do have another comment, I like her, I been too harsh on her =




Jade Kwan


Signing: She has a nice voice, but when she trys to sing certain notes her faces looks strained or something. Esp when she sang the song with Ron. Idk... I think its just me.

The look: She looks good with striaght hair (who doesn't?)

Other comments: I never heard her sing before overall she is ok. Is she the person who is in the same company as Niki? because if thats the case I perfer Niki, I don't know why...




Bernice Liu
Singing: The voice again changed from the last time I heard her. The voice is a bit raspy and seemed strained from singing before. Even though is sounded strain, idk I found it pretty good. her voice reminded me of someone... Candy Lo I think, low and bit raspy when she sings live.

The look: She looked great plain and simple

Other comments: I find her highly charismatic, and she look so happy =) is it just me or was she awfully close to Ron. Both in proformace and pictures released. haha...





Bosco Wong


Singing: I can say it not impressive but I like his voice. =)

The looks: *heart* the hair =)



Final Verdict-
I think I'm becoming a Ron fan or something... if your not a fan of Ron or any of the special performers, don't watch it.... that all I have to say. The show is short and worth it for all Ron Fans.
----------------------------------------------------------------
http://www.takungpao.com/news/06/01/21/UL-514243.htm
http://asianfanatics.net/forum/
translated by angelic_eyes25
Ron Ng's First Concert, Bosco, Niki, Bernice & Jade Perform

Ron Ng's first concert since becoming under BMA management was held on Thursday night. Ron's friends from the entertainment circle, including, rumoured girlfriend, Niki Chow, Bosco Wong, Bernice Liu and Jade Kwan performed at the concert. Although, Ron's rumoured girlfriend, Ella Koon, did not attend the concert, fans kept shouting out her name during the performance.

During a performance, Bosco asked Ron what kind of girls did he like and if he liked girls with long hair and big eyes. Ron used Ha Ping and Janice Wei to dodge rumours.

At the concert, Ron and Niki sang 'Goodbye Puppy Love' (再見Puppy Love). Ron then sang 'Don't Blame Her' (別怪他) with Jade. It was organised that after performing with Ron, Jade was suppose to sing by herself. But Ron forgot and called Niki up to the stage. Bernice sang 'Remembrance Day' (紀念日) with Ron, which received great reactions from the crowd.

After the concert, Ron was asked to give his performance a rating out of 10. Ron gave himself 7 points and said that he hopes to improve and will be able to achieve 100%. When asked to comment on fans catcalling Ella's name, Ron said that he and Ella working together is the past and the past is the past.

On the other hand, Bosco brought up Ron's rumours during the concert. When asked if he was afraid Ron will be mad, Bosco said that he was just making fun. Bosco then went on to say that he did not hear fans calling out Ella's name when asked by the media. Bosco stated that to be able to perform at this concert, he really enjoyed it. Bosco hopes to improve his singing and dancing to enter the music industry.
posted by toomanysidesofme @ 9:47 AM

Friday, January 27, 2006
01-27-06 Quote of the Day
Go Go Go! [Roger Kwok- Not Just A Pretty Face]
posted by toomanysidesofme @ 5:17 PM

Thursday, January 26, 2006
01-26-06 Quote of the Day
Jessica: Can you sit up straight, I'm not in a comfortable position
[Deric straighten up]
Deric: Sorry [Golden Faith]

[Note: I been thinking and thinking of the right word for "sun fu", I know I know it... but I just can think of it... ahh my english is getting worse and worse...]

non TVB quote


Jack: I think I'm going crazy...
Locke: no....crazy people don't know they're going crazy...they think they're getting saner.(LOST)

Submited by TVBsquare (you rock!)
posted by toomanysidesofme @ 4:04 PM

Wednesday, January 25, 2006
Correction "Lunar New Year"
I have just read the comment for the Chinese New Year post, I didn't mean to offen anyone in other ethnic races. Lunar New Year is the correct term. Sorry to anyone who was offended.

I believe that I read somewhere or heard for that matter that Lunar New Year orgins in from China and though many hundreds and thousand years, though cultural diffusion it spread to places with Chinese influences. Also Since the mass population of Chinese across the globe, the term Chinese New Year has been diffused into culture. A mistake by many westerners that Chinese only celebrate it, but it fact there are others too.

I am really sorry!
posted by toomanysidesofme @ 11:04 PM

01-25-06 Quote of the Day
If two people have the same dream, then they are meant to be together (Jessica Hsuan - Life Made Simple)


Non-TVB quote

"P1:this is the time when people says OMG
P2:So be a person and say OMG
P1:OMG" (Bones)


I just caught an episode of Bones right after American Idol. And I just laughed at this quote. Sorry I don't remember the names... I found the series pretty good =)
posted by toomanysidesofme @ 9:58 PM

Nick and Esther had a Baby Girl!
Congrats to this great couple! I wish the Mother, Dad, and the baby, the best of luck! So close to CNY! I'm happy for both of them! Congrats!




Nick and Esther had a baby girl! The baby's Chinese name is 'Bao Bao' which means 'treasure treasure'

Congrats to Nick and Esther! and the Baby! Shes so small!
posted by toomanysidesofme @ 3:32 PM

Chinese New Year! (CNY)
Chinese New Year is coming this Sunday! the 29th! I'm so excited!
Here are the Leading TVB actress wishing you a Happy New Year!




Gung Hei Fat Choy or Gong Xi Fa Cai!
remember year of the Dog!
posted by toomanysidesofme @ 3:03 PM

Jessica, Twins, and Miriam among Celebs with the most attractive profiles on Xinhua


Xinhua, a China Site, has put up on its site 16 most attractive profiles. Jessica Hsuan was included on the list at number 2. Miriam Yeung at 5 and Twins 7 and 8 (Gillan then Charlene)

Profiles meaning side view of face

Full List
1. Karena Lam
2. Jessica Hester Hsuan
3. Fan Bingbing
4. Saya
5. Miriam Yeung
6. Maggie Cheung Man-Yuk
7. Gillian Chung
8. Charlene Choi
9. Huang Shengyi
10. GiGi Leung
11. Stephanie Sun
12. Cecilia Cheung
13. Liang Jingru
14. Vicki Zhao Wei
15. Zhang Ting
16. Chaerim

Credits and all Photos of each below:
http://news.xinhuanet.com/english/2006-01/23/content_4081344.htm

-----------------
I personally think that Jessica looked the best.
posted by toomanysidesofme @ 9:24 AM

Tuesday, January 24, 2006
01-24-06 Quote of the Day
I will not give up on my friends (Raymond Lam, Survivor's Law)
posted by toomanysidesofme @ 8:58 PM

Monday, January 23, 2006
01-23-06 Quote of the Day
Ella: Did u listen to it? [after Ron takes out cassette tape]
Ron: It's kind of hard to find a cassette player now a days
Ella: Good...
Ron: Your kind of funny, you only listen to one song
Ella: What! I thought you said you didn't! (Ron Ng and Ella Koon- Revolving Doors of Vengeance)
posted by toomanysidesofme @ 9:05 PM

Shrines
Oh the many obessions I have... I shall make shrines of them! Each two weeks a new shrine will be constructed contain various material on them. The things included in the shirne is for you guys to find out when the first one is completed... hehe


Estimated completed time: January 29th
posted by toomanysidesofme @ 5:29 PM

Sunday, January 22, 2006
01-22-06 Quote of the Day

Even though right now, the one standing beside you isn't me, and I never had your 'heart' before, but I was yours. Although it was a short period of time, it was enough to last my lifetime (Nancy Wu - Twin of Brothers)
posted by toomanysidesofme @ 8:24 PM

Saturday, January 21, 2006
01-21-06 Quote of the Day

It's only when you lost everything you have, your heart will have no more worries and burderns. From now on, nothing and no one will ever be able to hurt me again. (Raymond Lam- LWOLAP)
posted by toomanysidesofme @ 11:11 PM

"Battle of the Fans"
Brought to you by TVBsquare



Toomanysidesofme has paired up with TVB Square to run this fun contest called "Battle of the Fans", please join and have fun ;-)I will also be judging some of the contest.

Deadline: March 24, 2006

Link: http://tvbsquare.com/TVBextras/birthday/4birthday.htm
posted by toomanysidesofme @ 4:33 PM

Computer problems...
After changing chipset and harddrive on my computer, I'm haing a few issues.. so I'll try to get an article in but not sure if I can... busy
posted by toomanysidesofme @ 1:36 PM

Friday, January 20, 2006
01-20-06 Quote of the Day
"Fireworks are beautiful, but it doesn't last a lifetime, on the other hand...
Stars not as beautiful as fireworks, but they can last forever." Raymond Lam
(Kau Chong) - Twin of Brothers
I find this quote rememberable. :-D
posted by x3LKJH @ 9:19 PM

Thursday, January 19, 2006
01-19-06 Quote of the Day
Women can only help men in one way (Raymond Lam- LWOLAP)



A bit suggestive from just looking purely at the quote... I have no clue what the context of the quote is in... anyways its so not true... all men in history has a women behind him. Psshh.. what a junnk quote.. Power to Women!
posted by toomanysidesofme @ 9:15 PM

Rememebering VOH
I recently rewatched an Episode of VOH2 [thanks to metal at his site http://www.virtuesofharmony.net/ , and I was reminded of how it made me laugh oh those years ago (it really hasn't been even a year yet but it feel like years have already past), How amazingly dense Ok Jie was, how bossy Ah Lo, First time I saw Bernice in her role as Joey... Steven Ma back after a absence from TVB, and Linda Chung... a rising newcomer currently one of TVB most promoted. And both of them together... filled in Frankie and Bernice's spot perfectly.. thought I totally wished that they would come back together at the end...well good times...



New kinda connected to this.... Women on the run finally are at its end! I saw an episode of the show... I was so not interested... Waste of Joyce Tang's talent... TVB should at least replace VOH with something up to par with its predecessor...
posted by toomanysidesofme @ 6:37 PM

From this angle...


From that angle... I swear that I thought that she was Bernice... well also from previous knowlege that she is in the series. I saw the title of the article first but even knowing what the article was about I still think she looks so like Bernice... btw its Sharon

article: Bosco Wong Receives 20 Punches from Sharon
oh poor Bosco =\
posted by toomanysidesofme @ 6:32 PM

Wednesday, January 18, 2006
01-18-06 Quote of the Day
It doesn't matter if you've forgotten about the past, but let me tell you, from now on you will remember our every minute and second (Joe Ma - RDOV)



-----
ok I'm kinda sick of spelling the, wrong purposely... so from now on its the not teh...
posted by toomanysidesofme @ 7:00 PM

Monopoly with TVB characters!
Lucy @ http://forums.cinple.net/

A company bought the rights from TVB to create the Monopoly computer game with 16 legendary TVB characters. Each character has a weapon that is a trademark from the series. For example, there is "Yu Lok Tin" (Dayo Wong's character from War of the Genders) and he uses a cockroach (Siu Keung) as a weapon. There is also "Ah Wong" (Roger Kwok) who uses bread as weapons and uses a bike to travel across the game.

A player might also run into other characters in the game. For example, Angela Tong's character from LMS might pop up to scare you and make you lose all your investments or Eric Tsang (Super Trio Show) might pop up and give you money and buildings!

The top one is Liza's character from WOIL, then the bottom is Stephen Chow on the left, Gigi's character from WAB in the middle and Roger's character (Ah Wong) on the right!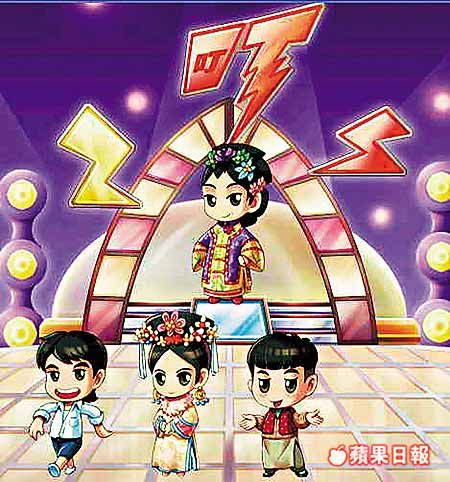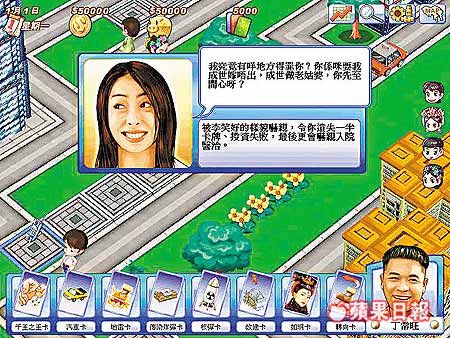 --------
I think its so cute!
posted by toomanysidesofme @ 4:39 PM

Tuesday, January 17, 2006
Central Affairs 2? Squeals TVB vs. ATV
According to the Sun a Central Affairs 2 is in the works and Michelle Ye is slated to star in it. Central Affairs got good enough ratings for a squeal.

Well just from the top of my head, I remember CA got 8-10 pts. Decent for ATV. And by ATV standard it's good enough for a number 2. Series in TVB has to achieve well over 30.... I have noticed around 34 and above. it does necessarily have to be high ratings, it's more of the hype that a series receives and the overall reaction to it. Like War and Beauty and Triumphs in the Skies with all the hype before and after that it received I expected their ratings to be really high, but it during most of its run it was near 34. Not exactly what I expecting. and I know those are pretty high ratings right there.

Actually Squeals to series, even if it's bad, is not what I get annoyed at the most is series that leave a total cliffhanger and they never film a squeal! Open ended series.. arggg. Leaving fans disappointed... Sigh.
posted by toomanysidesofme @ 10:31 PM

01-17-05 Quote of teh day
Loving someone doesn't always mean you need to go out with them, seeing them happy is all that matters. (Raymond Lam - Survivor's Law)
posted by toomanysidesofme @ 10:20 PM

Chik Chat TV Awards


From Kitson site http://tvbchinesenews.blogspot.com/2006/01/blog-post_113741989758732580.html
劲爆Top Ten TV Artistes Nominees
- Liza Wang, Ron Ng, Melissa Ng, Charmaine Sheh, Frankie Lam, Gilbert Lam, Bowie Lam, Niki Chow, Myolie Wu, Jessica Hsuan, Michael Miu, Joe Ma, Michael Tao, Kenix Kwok, Roger Kwok, Sonija Kwok, Moses Chan, Flora Chan, Dayo Wong, Bosco Wong, Angela Tong, Chung King Fai, Shirley Yeung, Bernice Liu, Adam Cheng, Gigi Lai, Bobby Au Yeung, Michelle Yip, Louisa So

劲爆TV Series Nominees
- A Great Adventure, Love Bond, Healing Hands III, War Of In-Laws, Life Made Simple, Revolving Doors Of Vengeance, The Charm Beneath, My Family, Central Affairs, The Academy

劲爆Lead Actor Nominees
1. Ron Ng - The Academy
2. Bowie Lam - Healing Hands III
3. Gilbert Lam - Central Affairs
4. Michael Miu - The Academy
5. Joe Ma - Revolving Doors Of Vengeance
6. Roger Kwok - Life Made Simple
7. Moses Chan - The Gentle Crackdown
8. Dayo Wong - A Great Adventure
9. Bosco Wong - War Of In-Laws
10. Chung King Fai - My Family

劲爆Lead Actress Nominees
1. Liza Wang - War Of In-Laws
2. Melissa Ng - Into Thin Air
3. Charmaine Sheh - Always Ready
4. Myolie Wu - War Of In-Laws
5. Jessica Hsuan - Life Made Simple
6. Kenix Kwok - Revolving Doors Of Vengeance
7. Flora Chan - A Great Adventure
8. Gigi Lai - The Charm Beneath
9. Michelle Yip - Central Affairs
10. Louisa So - Misleading Track

劲爆Supporting Actor Nominees
1. Lee Ka Sing - Life Made Simple
2. John Chiang - Revolving Doors Of Vengeance
3. Ha Yu - My Family
4. Paul Chun - Life Made Simple
5. Chun Wong - Life Made Simple
6. Byran Leung - Real Kung Fu
7. Andrew Lien - The Last Breakthough
8. Ben Hui - Life Made Simple
9. Bosco Wong - The Last Breakthough
10. Gordan Liu - Real Kung Fu

劲爆Supporting Actress Nominees
1. Michelle Yim - The Gentle Crackdown
2. Christine Ng - War Of In-Laws
3. Kiki Sheung - The Charm Beneath
4. Rebecca Chan - My Family
5. Angela Tong - Life Made Simple
6. Bernice Liu - Healing Hands III
7. Cindy Au - Misleading Track
8. Lo Yeun Yan - Life Made Simple
9. Mary Hon - Revolving Doors Of Vengeance
10. Ku Kei Kuan - The Academy

劲爆Newcomer Nominees
- Alex Fong, Charles Szeto, Selena Li, Fiona Sit, Ella Koon

劲爆Popularity King Nominees
- Raymond Lam, Ron Ng, Kenneth Ma, Sammul Chan, Bosco Wong

劲爆Popularity Queen Nominees
- Niki Chow, Leila Tong, Tavia Yeung, Shirley Yeung, Bernice Liu

劲爆Compere Nominees
1. Chan Pui Yi - ( 有線娛樂新聞 )
2. Kenneth Chan - ( 冷知識衝動 )
3. Joey Leung - Minutes To Fame
4. Eric Tsang - The Super Trio Show
5. Dodo Cheng - Justice For All
-----------------------------
Battle of TVB vs. ATV? I'm thinking TVB will dominate unfair really.
posted by toomanysidesofme @ 5:41 PM

1000 Lucky Stars



Picture property of nitnoy.com



I bet most of us have seen those paper stars alot of them in those jars. I actually know how to make them, or use to at least.

Instructions: http://www.nitnoy.com/Origami/star_instruct.html

I was looking at the site and I read the last comment at the end.

Completion.
Now you
have only
999 more
stars to go to
impress your
lover.

And the words Stars and Lover totally reminded me of DIF IV... (I can here the sighs, I know, AGAIN!) anyways... Near the end when Louis brings a jar of Stars and says he made them himself to impress Jessica..trying to get her back. Jessica touched at first later finds the price of it on the bottom of the jar... But Jessica make him guess how many stars are in there. Leaves the room, letting Louis see a file of her notes/comments on a patient... oh memories... sigh....
posted by toomanysidesofme @ 4:59 PM

Evidence, Proof! LJ
Sorry sorry sorry! I couldn't help myself. I found an article while going though some Jessica articles, whether English or Chinese. And I came across this... Then it just so happens a few days later on my favorite forum to talk about Jessica [Spcnet- topic Jessica Hsuan] aside from the offical forum they were talking about LJ! AHHH..

My reply: lol, did someone mention LJ? OMG! hehe I love this topic... anyways since were kinda on that topic

Jessica is always first to Koojais
Note: Koojai is Louis Koo.
发布: admin 分类: 宣萱档案 发布日期: 2005.10.21

Looking back, Jessica always appear in Koojai's first-time important event and is the only female friend that Koojai has a lot of public acknowledgement:

回首过去,萱总是在古仔发生事情(event一般指大的事故,事件)的第一时间出现,并且是古仔在众多公开 场合承认的唯一一位女性朋友。


1997/1998 Jessica was the first female that Koojai publicly expressed his trust and support when Jessica was having a lot of bad rumours

1997/1998 当萱身现一系列的是非麻烦时,古仔在公开场合表示坚信和力撑,萱是第一个让古仔公开表示坚信的女性。("t rust and support ":坚信和力撑)

1999 Koojai won his first TVB best TV actor, Jessica is his partner and won best actress

1999 古仔赢得他的首个TVB视帝,萱是他的搭档,并且赢得视后。

2000 Jessica as guest in Koojai's 1st own CD "Boyfriend" promotion function as and posed with Koojai the "Titanic lover" scene

2000 萱作客出席古仔的首张拥有CD"男朋友"的宣传发布会,和古仔表演"泰坦尼克情人"的一幕。

2000 Jessica showed up in Koojai's 1st HK mini-concert and gave him a birthday card

2000 萱出席古仔第一个香港小型演唱会,并且给他一张生日卡。

2001 Jessica as guest to Koojai's 1st overseas concert (Atlantic City concert in US)
2001 萱作为嘉宾参加古仔第一个越洋演唱会(美国太平洋城演唱会。)

2002 Jessica as guest to the b-day party Koojai held for his father that is made known to the public media

2002 古仔为父亲举办生日会,萱受邀参加,被传媒知晓。

2002 Jessica as "the female good friend" guest to Koojai's 1st TVB interview show

2002 古仔的第一个TVB 采访秀,萱以"女性好朋友"的身份参加。

2002 Jessica was the first female that Koojai kissed in the public (besides Koojai's mother). Koojai said he felt uncomfortable to even kiss his mother, but he would still do it because is Jessica

2002 萱是古仔在公开场合kiss(亲吻)的第一位女性(古仔母亲除外)。古仔说,甚至亲吻母亲他都会觉得unc omfortable (不舒服)。但是他仍会在公开场所亲吻,因为那是宣萱。

2003-2004 LJ behind the scene (stays low key....)

2003-2004 在公众视线后,低调,地下X....(在英文里,"behind the scene +stays low key"暧昧又意味无穷,我翻不出,自己去想)

No matter what and when, Jessica is the only female that Koojai allows or responds to intimate behaviours. Jessica is always a close and important person to Koojai.

无论如何,宣萱是古仔允许并且会回映做出亲密行为(应该是亲密动作吧)的唯一一位女性。对于古仔,宣萱总是 一个亲密而重要的人。


Credits http://jessica.8s8s.com/xuanxuan/xuanxuan29.htm
__________________
posted by toomanysidesofme @ 3:05 PM

Monday, January 16, 2006
01-16-06 Quote of teh Day
Jessica: You rascal, don't come over here!

Kong Wah: Fong Yi, don't be stupid!

Jessica: If you're scared of me to die… Then why betray me?!

Kong Wah: I didn't want to! It's Hong Siu Long! If it weren't for him, you wouldn't be cold to me… I can't live without you, I have to make Lo Kai my Si fu! I don't want to be handicapped anymore.

Jessica: You rascal, you sacrificed me to learn from Lo Kai how to use your left arm to fight... you let me *shakes head* You are even more selfish and greedy than any Lo Kai! Even if I die, I won't forgive you! *jumps off mountain into ocean*

[Jessica Hsuan and Kong Wa - A Step into the Past]


The idea came from RIta..! =]
posted by x3LKJH @ 8:20 PM

TVB's New Year cards


Yesterday TVB's New Year cards are out, featuring 72 entertainers under TVB managerment. The cards are three-dimensional and the Fa Dans and Siu Sungs will be on the 'three-dimensional position'. 'Double sisters' Charmaine Sheh and Gigi Lai gets to stand in the middle of the page, followed by Ron Ng and Kevin Cheng on their sides. 'First brother' and 'first sister' Roger and Jessica also got to stand right in the middle, revealing their position with TVB.

Being the biggest company in Hong Kong, TVB has expanded their manager department last year and had became much more prosperous. This year's New Years cards are aimed at local and overseas customers. The cards will include 72 new and under TVB management artists with the main focus on the order of the Fa Dans and Siu Sungs. TVB has spent a great deal of time in the ordering with highly promoted Charmaine and Gigi in the middle, followed by Ron and Kevin, Myolie and Tavia, and finally Raymond and Bosco.

Roger and Jessica were also standing in the middle, followed by Melissa Ng, Bowie Lam, and Moses Chan. Michael Miu and Angela Tong also got to take part in this. But despite the popularity of Li Siu Ho, Angela could still only stand in the last row.




http://the-sun.orisun.com/channels/ent/20060117/
http://www.asianfanatics.net
translations by xbunnylicious

Also part if this the Red evelopes

http://toomanysidesofme.blogspot.com/2006/01/tvb-red-envelopes-to-feature-8-fa-dans.html
posted by toomanysidesofme @ 6:09 PM

The booings...


It seems to be that "booing" has become a common occurence. At JSG, when Ron won the silver, booings could be heard. I have to admit I'm not a Ron Fan but I'm not one of those haters you see around. I have to say he sings fairly well... not bad. I think booing when he got silver... not gold... it a bit extreme. Also when Endy Chow won bronze... this time for a different reason. Fans thought he deserved better. Nikki Chow also an attended JSG but did not receieve any awards so there was no booing for her... unlike her expirence at TVB Aniversary when she was booed for receieving the Most Improved over the hot favorite to win Bernice Liu. Different situation different opinion about booing. Ron's booing, I thought was completely unnecessary over Nikki's win, which I wasn't happy about. Mainly Ron did not win 1st place over Nikki winning the only award. and also another factor being I'm a Fan of Bernice... o well there is always next year.
posted by toomanysidesofme @ 5:01 PM

Sunday, January 15, 2006
Hair Change
Change is good... people like change. Same old same old is just boring BUT.... when it comes to hair... its usaully not the case.
Last Year....Jessica Hsuan
Change: Bangs
Before---------------------------------------------->After


This Year.... Kenix Kwok
Change: Short Hair
Before---------------------------------------->After


I think it looks terrible but thank god its just a WIG! She was just "Testing" it... for her hubby
posted by toomanysidesofme @ 7:39 PM